Students Testimonials
Jesse Castellanos (MS Biology)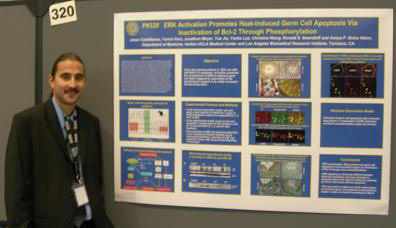 Acceptance to PhD Programs in Biomedical Research at City of Hope and Cell & Molecular Biology at University of California Riverside. Interviewing at Sackler Institute of Graduate Biomedical Sciences at New York University School of Medicine and University of Southern California
Exploring undiscovered methods and paths requires self criticism, self-assurance, and courage. During my life I have learned to adapt to new environments and learn techniques that I had never before encountered. Being a first generation Latino college student has forced me to learn how things are done and frequently hit bumps in the road.
It is these bumps that have motivated me even more to persist and follow my dreams. No one in my family has ever gone past high school. My mom struggled to make ends meet, and I had to work twenty to forty hours a week just to get through my undergraduate education. Through my collegiate career I have been very fortunate to have great mentors. As part of the MBRS-RISE program I was given the opportunity to not only learn about research but experience it. My research experience flourished as part of the Initiative for Minority Student Development (IMSD) in which I was given the opportunity to work at Los Angeles Biomedical Institute (LABioMed) at Harbor UCLA Medical Center in a very well established and structured laboratory. With my desire to succeed and persevere, and with the help of these programs, it has helped me overcome many struggles.
Cheyenne Cummings (senior, psychology and geology: earth science)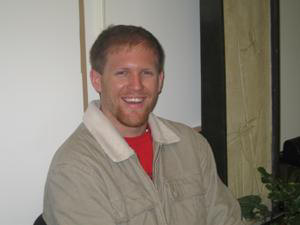 Acceptance to UC Riverside's PhD Program in Psychology
Coming directly from high school into college at Dominguez Hills, I didn't know what to expect. Now looking back I couldn't have asked for anything more. If not for the meaningful connections I have developed with virtually all of my professors, especially Dr. Larry Rosen in psychology, I might not have survived the struggle through college and I would never have thought about graduate school. I never imaged being able to graduate from college, and earning a degree in two majors (Geology: Earth Science & Psychology), yet professors weren't the only source of support I received.
CSU Dominguez Hills has always, during my attendance, strived to provide more opportunities to students than most colleges I have read about. Along the way if it weren't for a few key professors who showed they cared about my education I wouldn't have decided to attend graduate school. However, after being accepted to the MBRS RISE program, one of the many opportunities at Dominguez Hills, I knew graduate school was in my future. I have now been accepted into University of California, Riverside in their Developmental Psychology Ph.D. program with a full scholarship and have applied to a summer mentoring program at UCR.
Candace Johnson (MS Biology)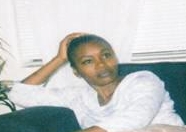 Accepted to PhD Program in Biology at University of Southern California in Los Angeles, California
I never thought it could be me. Most people from my neighborhood dream about going to a university but it usually does not come to fruition because of low SAT scores or grade point average. I was recruited from a community college by a PACE counselor. I was also very worried about my financial situation. I had a young daughter at the time and could not afford the luxury of an education.
I was tremendously relieved when I met Ann Overton from the financial aid department. She enabled me to concentrate on my education with the news of federal grants. My hope began to flourish when I met chemistry instructor Dr. Sophia Pappatheodorou. Not only did she teach me about chemistry, she taught me how to face uncertain times and she inspired me to be something greater than my previous surroundings. I received my first degree in Interdisciplinary Studies. While studying toward this degree I met Dr. John Roberts who gave me the desire to attempt a master's degree in Biology. I am currently finishing my master's degree through the IMSD program which allows me to perform research experiments at LABioMed, a research facility on the campus of Harbor-UCLA Hospital in Torrance, California. With this experience of working in a professional research laboratory, I began to learn what is truly expected of me. I will be attending USC in the fall in the PIBBS PhD program. I do not believe any of this would have been possible in a larger more impersonal setting. CSUDH offers a personal and nurturing setting which gives every student a chance to excel. I found most professors are approachable and they also accommodate students with disabilities. I am one of those students. There are many schools that teach, but not as many that care. CSUDH faculty and staff care. 
Casey Leong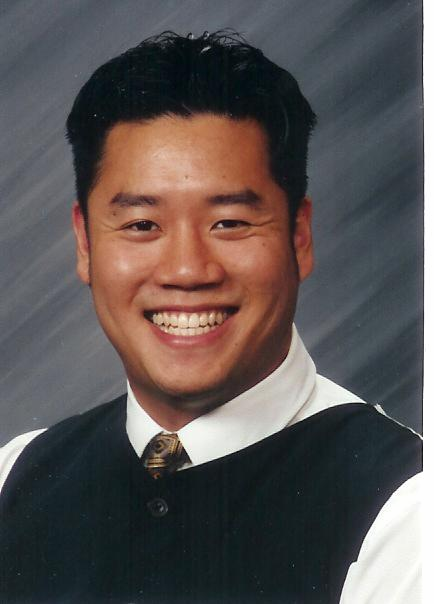 Second year medical student at Wayne State University, School of Medicine
I have met many wonderful people at CSUDH and have made life-long friends.  The experience that CSUDH gave me was unique and has allowed me to pursue my dream of becoming a physician.
I graduated from West High Torrance and then went to the University of Colorado where I received a bachelor's degree in Economics.  After graduating, I moved back to California and taught algebra at Jefferson Middle School in Torrance for several years. The Torrance Unified School District required that I take teaching credential classes, so I decided to fulfill these requirements at CSUDH.  While taking classes, I found the now-retired Dr. William D. Wilk, chemistry professor and pre-med coordinator. I discussed with him a career change into medicine.  Dr. Wilk's passion and enthusiasm encouraged me to take classes at CSUDH to fulfill medical school basic science requirements and prepare for the MCAT. 
Along the way, I had excellent professors including Dr. Wilk, Dr. J. Lyle, Dr. Noel Sturm, Dr. Monica Gorman, and Dr. Davood Soleymani.  Pre-med classes are not easy!  The greatest thing about CSUDH is the students (especially the basic science students).  Having attended other universities, I know how cut-throat students can be, especially in a pre-med environment that rewards excellence seen only by standard scores and percentiles.  However, my classmates and I helped each other on a daily basis, and I still keep in contact with my friends who kept my spirits up and my head buried in notes. 
I encourage students at Dominguez to take as many classes from the above professors, especially histology and parasitology from Dr. Solyemani. I also encourage pre-med students to continue the spirit of brotherhood and compassion that I felt while I attended CSUDH.  Which reminds me, when preparing a personal statement, please seek out Ms. Vicki Johnson, career counselor in student development. She truly is a saint and a beautiful person. Vicki helped me through some hard times and even harder deadlines.  My interactions with her have taught me a lot about myself and how I want to communicate/relate with my future patients.
I am in my second year at Wayne State University School of Medicine.  If you enjoy the diversity of students at Dominguez, I recommend applying to Wayne for medical school.  Medical school is just as hard as everyone says, but it is a lot of fun too.  I am involved in several groups including AMA, JMSA, BMA, SNMA, AAPI, APAMSA, and LGBT. As an Asian, Catholic, straight man, I do not fit the prototypical member for most of the organizations, but all the groups have been welcoming, the meetings have good food, and the parties are a great way to have fun with classmates in a non-academic environment. Good luck to all the students!
Marvin Malone (senior, chemistry)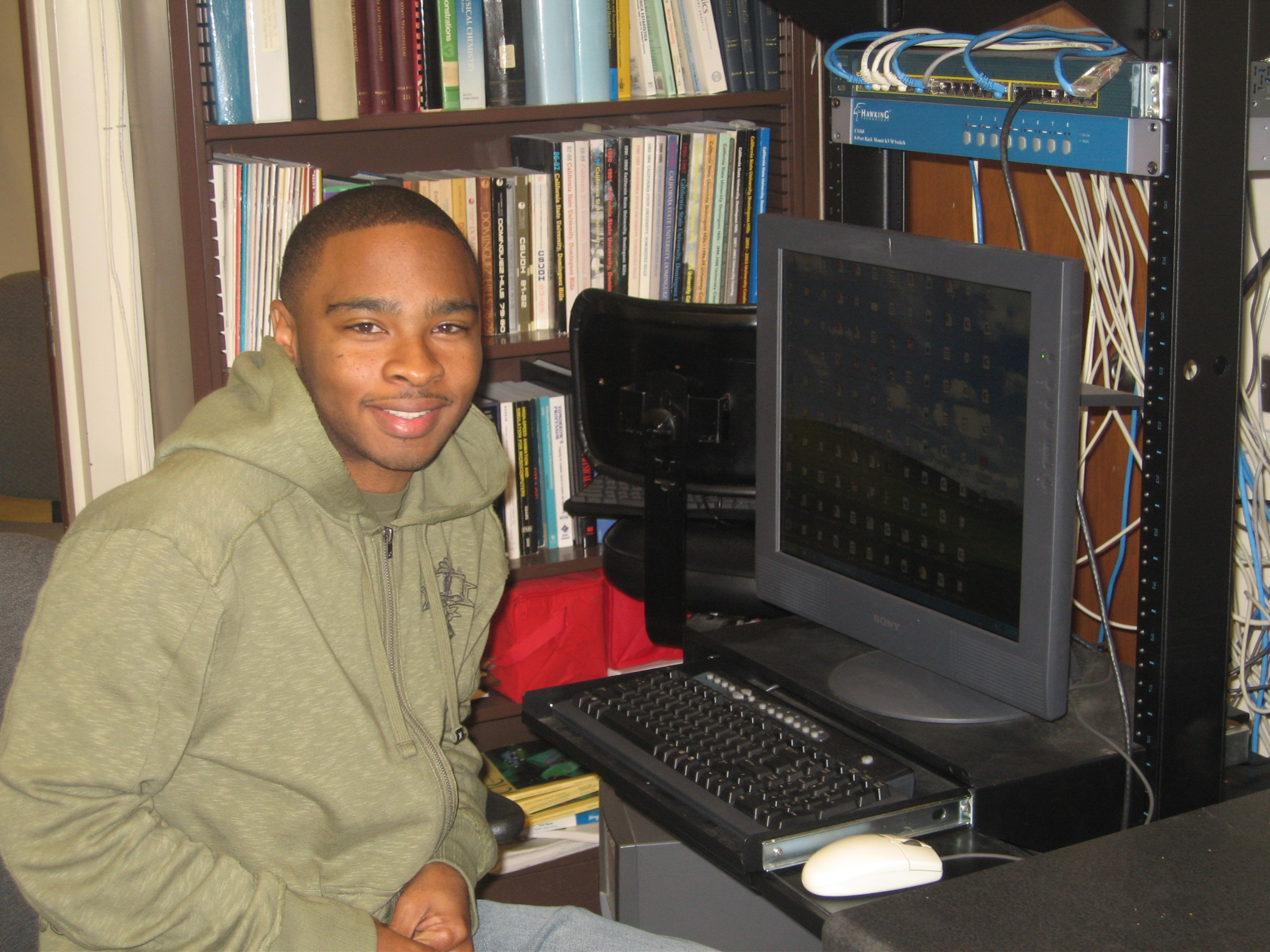 Acceptance to PHD Programs in Chemistry at: University of Arizona, Colorado State University, Florida State University, University of Georgia, Louisiana State University, University of Nebraska at Lincoln Ohio State University, Penn State University, University of Tennessee
  About 5 years ago, I made one of the best decisions that I could have ever made.  I decided to apply to California State University, Dominguez Hills. Being a student at Dominguez Hills has been a great experience for me. I have had the opportunity to learn from professors who are leaders in their fields as well as young professors who are on the verge of excellence. I have also had the opportunity to work alongside future leaders, as a student scholar in the MBRS RISE program. 
My work as an undergraduate research assistant has helped shape me into the student and person that I am today. If it were not for the support that I received from everyone in the MBRS RISE program and the faculty at CSUDH, I am sure things would be different.
Now, I am a graduating senior getting ready to go to graduate school in hopes of receiving a Ph.D. in Chemistry and it is all because of the preparation, programs, and my experiences here at CSUDH.
La Tonya White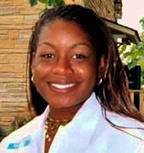 Second-Year Medical Student at Wayne State University, School of Medicine
CSUDH was definitely the right choice for me.  I have to agree with everyone when they say that the small class sizes were of great benefit to all students.  Not only does this allow you to make lifelong friends, but also build a great rapport and personal relationship with your instructors who never forget a name or a face. 
The CSUDH science department is full of excellent professors who not only provide an excellent education, but are willing to help with all aspects of your undergraduate studies, such as choosing classes, seeking out research opportunities and identifying potential career choices.  In addition, individual tutoring is offered by excellent students for every science and math class at no charge.  All of the pre-med students at CSUDH knew each other and helped each other.
I graduated from CSUDH with a BS in Biology in 2003.  During my time at CSUDH I participated in the MBRS-RISE program which gave me hands on research experience and the opportunity to work one on one with researchers at Harbor-UCLA in the Ob/Gyn Department.  As a student I also worked as a math tutor and later on as a phlebotomist and cytology laboratory technician at a local hospital.  My extracurricular activities gave me an opportunity to work efficiently and communicate directly with students, researchers, patients and physicians.
I am currently a second year medical student at Wayne State University School of Medicine in Detroit, Michigan. This is a great school, surrounded by countless hospitals, including Veteran Affairs, a women's hospital, and a children's hospital. Wayne State University gives students a myriad of student organizations and volunteer opportunities to be directly involved in community health from Day 1, including health screening fairs, free clinics run by students, and teaching Detroit Public School students anything from eating healthy to STD/AIDs prevention.  Some of the organizations are clinically oriented interest groups and provide mentors as well as shadowing opportunities with neighboring physicians and faculty.  As a second year student I have had extensive direct patient contact which is invaluable.  Medical school is definitely challenging; however, when you step into a hospital or clinic and interact with patients, you realize that this is truly what you want to do for the rest of your life and there is no greater feeling. 
My advice to pre-med students is to first and foremost secure an advisor or mentor early on to ensure that you know what you should be doing through each step of your undergraduate studies.  Seek out clinical research opportunities and shadowing experiences to further define your future career decision.  While doing well on the MCAT is definitely important, make sure that your application to medical school is well-rounded.  Spend adequate amount of time preparing your applications and personal statements to gain an interview at the school of your choice.   Obtain letters of recommendations from those who know you best and that you have worked with closely during your undergraduate or graduate studies.  When you secure your interview, the most important attribute is confidence.
2000-2003 Graduates
Sheila Asare-Bediako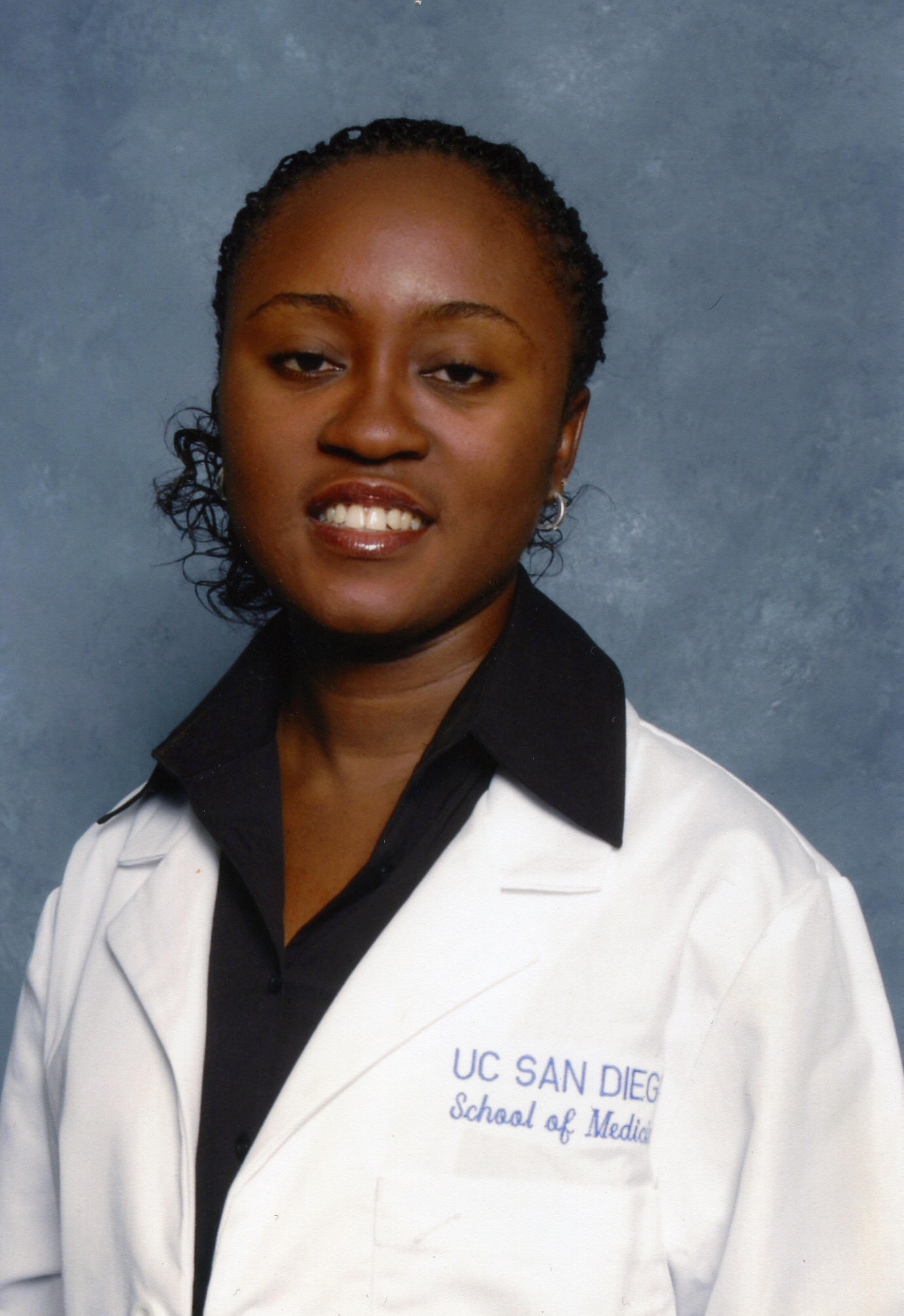 Second Year Medical Student, UCSD School of Medicine
My Dad, who happened to work at Dominguez Hills, explained to me some unique features about Dominguez Hills—small class size, faculty/student relationship, research opportunities, and other things.  After graduating from El Camino College, I turned down admission to USC and headed to Dominguez Hills.  At Dominguez Hills, I experienced all the advantages that my dad told me about. I had the opportunity to develop a lifelong relationship with my mentor, Dr. Carol Guze.  I met faculty members like Dr. Tom Landefeld who me gave the opportunity to be part of the Undergraduate Student Training in Academic Research (U*STAR) program, an NIH scholarship program that provides mentorship and research experience.  I was able to do research not only at CSUDH, but at other campuses as well.  I also had the chance to travel to scientific conferences where I networked with fellow students and faculty members from all over the country.  The rich experience that I received from both U*STAR and the RISE programs boosted my confidence to apply to one of the country's best medical schools – UC San Diego School of Medicine.  Today, I can be proud of my experiences at Cal State Dominguez Hills and be able to share it when people ask me "where did you do your undergrad studies?"—which is one of the most popular questions asked in medical school!
John W. Breneman III, Ph.D.
CSUDH provided the opportunity for me to explore other interesting career ideas after my original B. A. in Biology by taking evening/night classes while still working full-time.  My original intent was to balance each science class with a business class, possibly morphing that into a combined Master's degree. Well, that fell by the wayside after classes in electron microscopy and molecular biology by Dr. Laura Robles convinced me to dive deeper into the cell.  I started doing research on octopus eyes in her lab and just had way too much fun. While playing around in the cell, another person made a big influence on my career path, Dr. Carol Guze. She started the first Human Cytogenetics Certificate Program and I, along  with a few other guinea pigs, enrolled.  After all that hard work, I finished my M.A. in Biology and continued on to get a Ph.D. in Genetics at UC Davis.
Luis Campos, Ph.D. Candidate, UCLA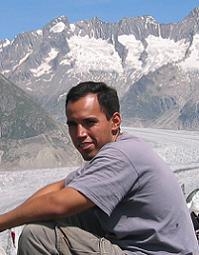 The smaller class size really helped in my undergraduate studies at CSUDH.  I actually went to a UC where I took a chemistry class with 200 classmates while at CSUDH, the same class had 10 people.  It makes a HUGE difference to get a professor who is teaching the class, rather than a T.A. graduate student who is only a few years ahead.  I really liked the Chemistry Department at CSUDH; Professor Wilk (now retired) was an amazing instructor who pointed me in appropriate directions and Professor Martinez was responsible for my excitement about research and graduate school. I got to learn a great deal about research from him. I am finishing up my Ph.D. in Chemistry (Organic Division) at UCLA and will follow with a postdoctoral appointment at the Materials Research Lab (UC Santa Barbara)
Rosemary Diaz, M.S., UCLA (Ph.D. in Progress)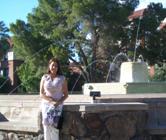 Recipient of the Henry Samueli Excellence  in Teaching Award, 2003-4
I really enjoyed my time at CSUDH.  The small class sizes were really great and it made it easy to approach the professors.  This became really apparent when I started taking classes UCLA.  One of the first classes that I took here was located in a stadium style classroom; there were about 100 students enrolled in the class.  When I wanted to ask the professor a question after class, I had to stand in line! While I was at CSUDH I joined Dr. Ganezer's research group.  As an undergraduate student, I thought it was really exciting to be part of the research collaboration. I got to actually visit the neutrino detector in Japan (Super-Kamiokande), and meet with other researchers from around the world.
Tiffany Lanoix, M.A., UC Irvine Lecturer, Sociology, CSUDH; Lecturer, Sociology, CSULB
As a Sociology student at CSUDH I was mentored in a way that most undergraduate students at large universities do not get to experience. In these types of institutions it is easy to become just a student ID number and never interact with your professors. I had instructors such as Dr. John Quicker, Dr. Clare Weber, and Dr. Kanghu Hsu who took a personal interest in me and my academic career. Being a first generation college student, my family was limited in the type of practical guidance I needed both as a student and in my pursuit of a graduate degree. I owe a lot of my academic success to the personal mentorship I received from these professors and to the teaching emphasis at CSUDH which encourages professors to focus on the success of their students.
Lois Lee, Ph.D.Sociology/Anthropology JD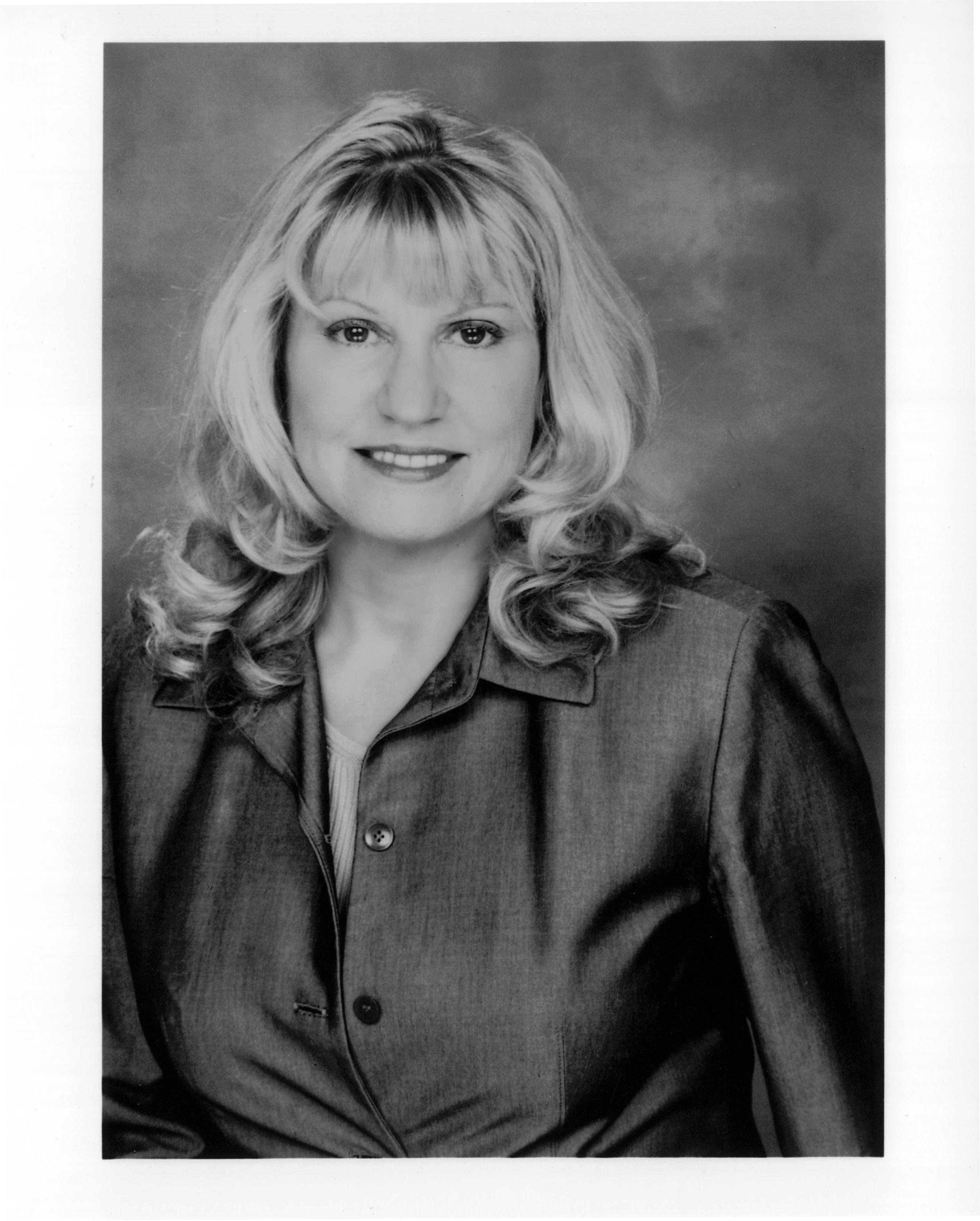 I enrolled in a summer class at CSUDH. I was just passing through taking extra units between sessions.  I had completed El Camino Community College and been accepted at California State University Long Beach.  I was amazed at the faculty who challenged my middle class values and conservative thinking.  They taught me not to take everything at face value and empowered me to learn that "one person could make a difference."  I was taught how to conduct research, how to challenge the system, how to develop programs, and write papers to present to Sociological conventions. Later, I taught my first college course at CSUDH and I worked in the Social System Center where I was allowed to use the university's resources to research police reports filed for prostitution arrests by the LAPD and the L.A. County Sheriff's Department; this research was used to challenge the equal enforcement of the prostitution laws.  With the support of an accomplished Sociology faculty at CSUDH, the internationally recognized "Children of the Night" program was born (for more information: www.childrenofthenight.org). There is not a day that goes by that I don't think of the wonderful opportunities afforded me by CSUDH.
Alejandro Morales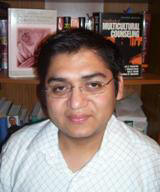 PhD Candidate in Psychology at the University of Nebraska-Lincoln
Over the past five years, I have been at the University of Nebraska-Lincoln working towards my doctorate in Counseling Psychology. Graduate school as most who have gone through this stage, define it as a rollercoaster. It's fast with its ups and down, and it can be fun! Over these past five years, I have learned a lot about psychological research and practice. My passion for research has always focused in the area of Multicultural/Diversity issues. For example, for my dissertation, I am conducting a qualitative multiple case study with Mexican immigrant families who have children who translate and interpret for their parents. This practice, although it is common in immigrant communities, has been neglected by social and behavioral scientists. My clinical experiences have also been associated with providing mental health services to individuals from marginalized groups. For example, I have provided counseling to immigrants who have been victims of discrimination and oppression and refugees who are survivors of political torture and are seeking asylum.
My experiences in graduate school have not only shaped me to become a future psychologist, they have also pushed me to grow as an individual and human being. The demands in graduate school are quite high, yet I have been able to learn how to deal with them. I have also had the privilege to meet great people who have become great friends and colleagues. My professors do not see me as just a student, they see me as their colleague and take my opinions and suggestions serious. Overall, I can say that my experience in graduate school has been fulfilling. As I am getting ready for what is the last stage of my graduate education, I can say that I have enjoyed every moment, and I have no regrets. The opportunities I had at CSUDH, include the APA/NIGMS Scholars Program in the Psychology Department and the MBRS RISE program; they were instrumental in my acceptance to graduate school. These two programs allowed me to work very closely with faculty members in conducting psychological research. I have to thank Drs. Carrier and Santos for taking me under their wings and preparing me for graduate school. They not only provided me with tools that have helped me in graduate school, they also challenged me to think more critically about my research and my career goals. I think that CSUDH provides great research opportunities for undergraduate students. I think that programs such as the APA/NIGMS Scholars Program and MBRS RISE are great for students to get their feet wet about conducting research. It also prepares them for what they will be doing in graduate school. I highly encourage any student who is interested in going on to graduate school to take advantage of these programs. There are also summer research programs where students can collaborate on research with researchers from other parts of the U.S.
One last word of advice is not to be afraid to leave sunny California. Sometimes, the best training one can receive is in another state. In my case, I landed in Nebraska which is one of the relocation sites for immigrants and refugees, a great place to conduct multicultural research. Students who attend colleges and universities in California may not know that in out of state schools they can receive outstanding opportunities. Always remember that we can come back once we receive our degree. I hope that my story helps other students who want to go to graduate school or at least help you think about the possibility.         
David Puerta, Ph.D., Chemistry, UCSD
CSUDH had everything to do with where I am right now.  I am currently employed as a research scientist for a start-up biotech company in Cambridge, MA.  It was at CSUDH where I was first introduced to research.  The smaller class size was very helpful and we were able to meet with our professors very frequently, which is not easy at big schools.  I think the small class size and the personal interaction with the professors is a big benefit to the students at CSUDH.  Opportunities for undergraduate research and funding are not always available at smaller schools, so having that at CSUDH is another plus.  The professors are very encouraging and want to see you succeed.
Teresa Ramirez, Graduate Student, National Cancer Institute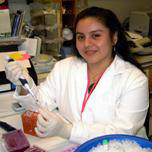 I am a post-baccalaureate student at the National Cancer Institute in Frederick, Maryland.  As a Minority Biomedical Research Support (MBRS) student and CSUDH alumni, I was given many wonderful opportunities. Dr. Laura Robles gave me the opportunity to become part of the MBRS program even when I had no research experience and no knowledge about what biomedical research was all about.  From there on I started to learn new and interesting things about science and I was given the opportunity to travel to different states and countries for student conferences.  From being part of this outstanding program, I learned how to present myself as a young professional.  The MBRS program is a program that has made helped many students' (including mine) dreams come true.  After learning about the National Institute of Health and National Cancer Institute (NIH/NCI), I hoped to one day contribute to cancer research and the MBRS program has made this possible; it has opened the doors to success and career opportunities. I am so proud to be a part of the MBRS and CSUDH  alumni.
Fatima Rivas, The Theodorakis Reseach Group, M.S., UCSD, 2003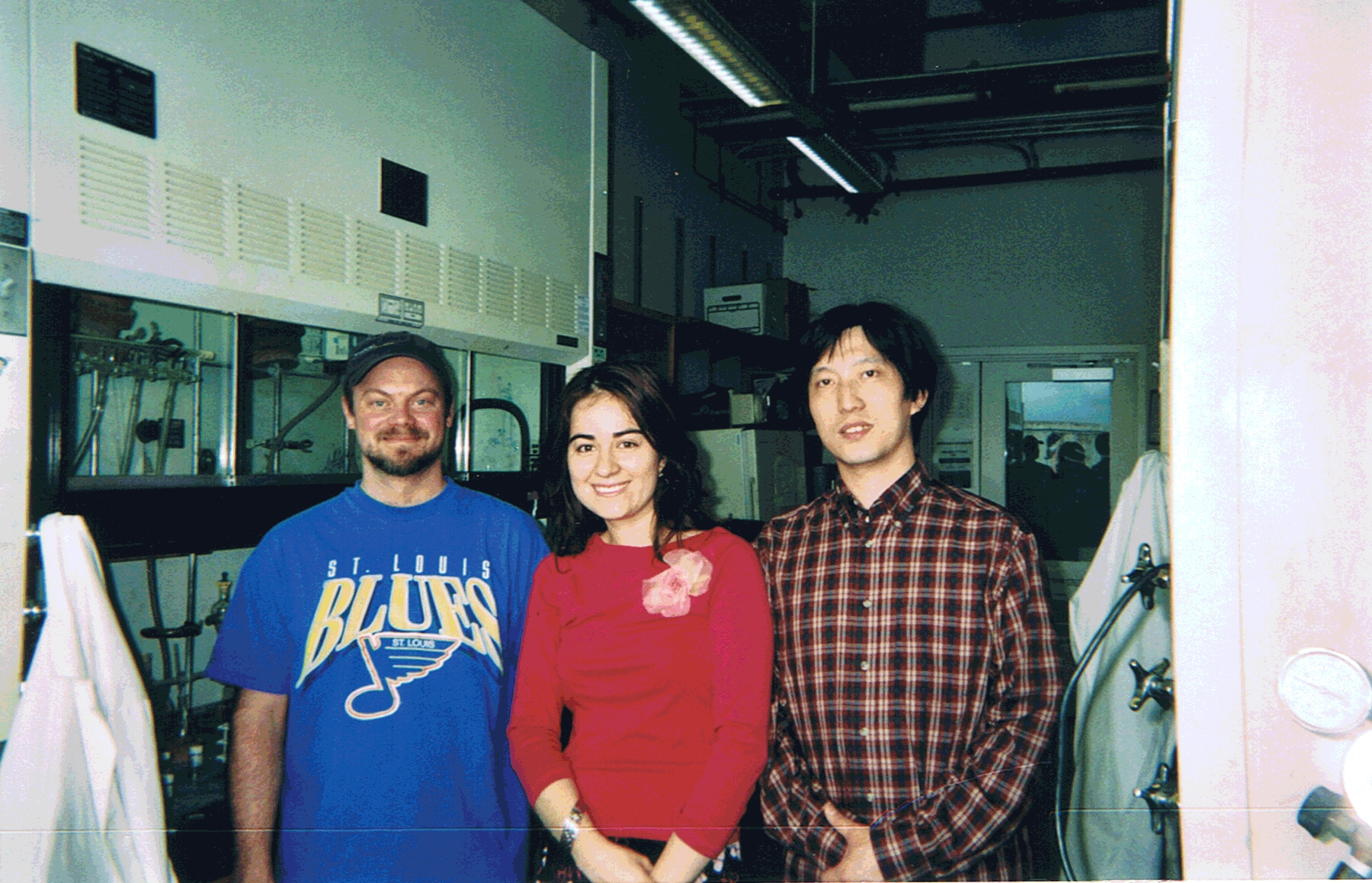 I decided to attend CSUDH instead of UCLA when I graduated from Huntington Park High School because I noticed that the campus was very small and there was a sense of home due to the friendly faculty and administration. CSUDH provided me with the tools necessary to succeed in my chosen field of organic chemistry.  The small group interaction and the availability of the faculty were overwhelming factors that helped me become a better scholar.  I recall that most of the professors at CSUDH have an open-door policy; something that at the UC system or at the private school sector such as Stanford is rare. The faculty is also very encouraging and promotes good self-esteem and an overall good environment that allows the students to develop rapidly in a healthy manner as they mature in their field. As a 5th year graduate student at UCSD, I am completing my doctoral degree in Organic chemistry,with an emphasis in the art of total synthesis.  I will start my post-doctoral work at The Scripps Research Institute in the fall under the guidance of Dr. K.C. Nicolaou, and I will also be teaching at San Diego State University. I owe my success to the unnoticed hard work that every professor at CSDUH carries on every day.  There are some professors that definitely come to my mind when I speak of my career and they are Dr. Landefeld who helped me apply to the USTAR program and later mentored me for a two year period and pointed me in the right direction. Under his guidance, he suggested I work for the well-known scientist Dr. Laura Robles at CSUDH, who played a pivotal role in my career as well.  In addition, Dr. Sofia Pappatheodora, who was my chemistry advisor,helped me chose a graduate school and a suitable mentor. I believe that CSUDH is one of the best schools in the state and I encourage high school students to consider attending CSUDH because it will provide them with a great education that can take them wherever they want to go.  Reach for the stars and you shall at least get off the ground!  
1985 Graduates
Antonia Boadi, Ph.D. Candidate, USC Lecturer, Computer Science Department, CSUDH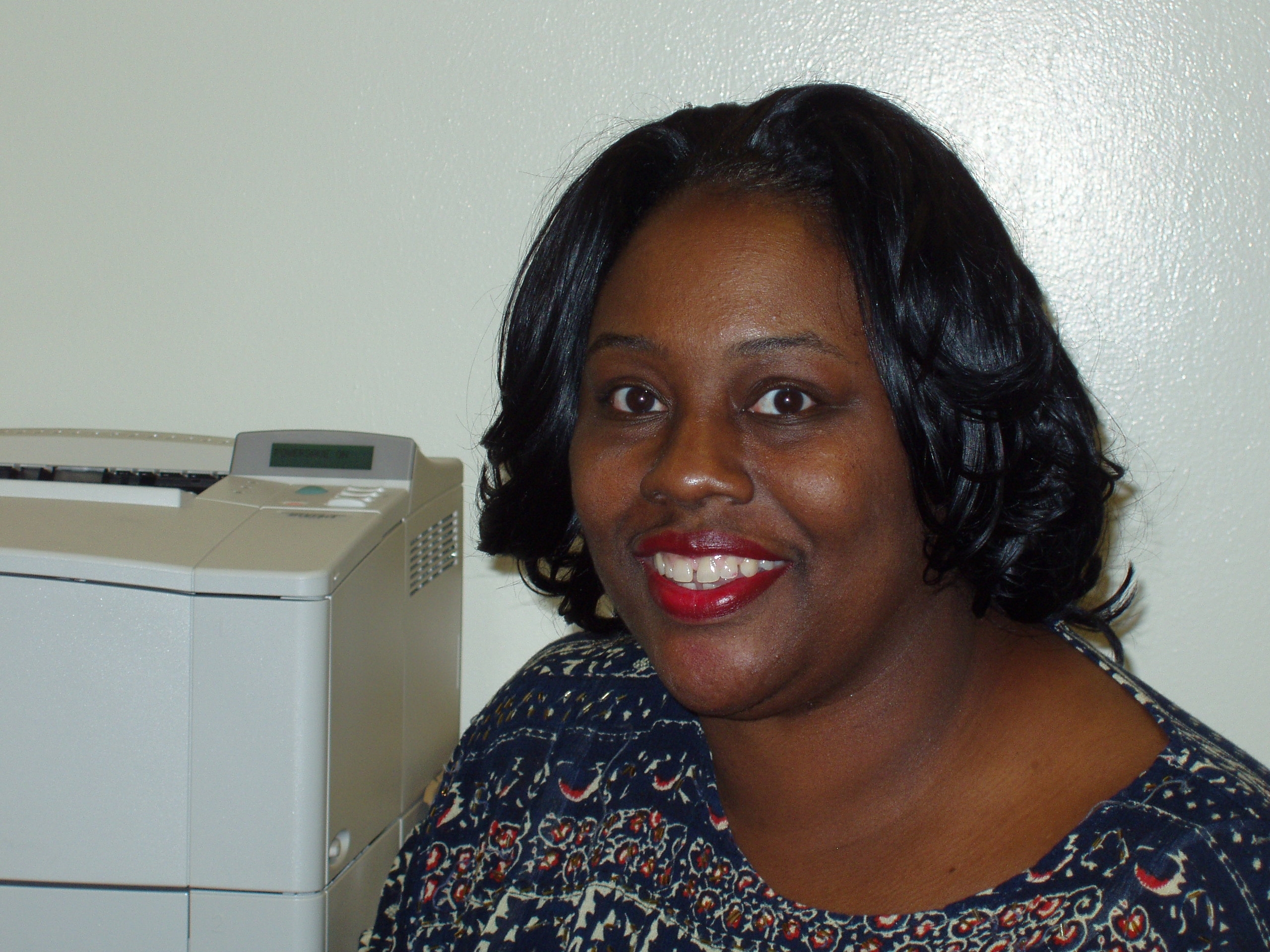 I am currently a faculty member in the CSUDH Computer Science Department.  I graduated with honors from CSUDH with a double major in Mathematics and Computer Science.  Because of the small class sizes at CSUDH, I was able to establish strong ties with several of my professors, four of whom mentored me long after graduation.  I received an engineering position at a local aerospace firm based on the recommendation of Dr. Stephen Book, one of my mentors.  When I finished my M.S. in Electrical Engineering at USC, Dr. Garry Hart, another of my mentors, invited me to teach math part-time at CSUDH.  I fell in love with teaching and with CSUDH students.  After a few years of teaching part-time, I eventually quit my job in order to pursue a Ph.D. in Electrical Engineering at USC.  Dr. Hart sponsored me for the CSU Doctoral Incentive Program, an initiative designed to encourage CSU students to complete doctoral degrees and assume faculty positions.  I have also received research funding and training from NASA, USC, XEROX and The RAND Corporation.  My undergraduate experience at CSUDH has been pivotal to my personal and professional development.