California State University, Dominguez Hills is proud to host the Presidential Scholars Benefit Reception on April 23, 2020. Advertisement opportunities are available for the Benefit's printed program. All proceeds will benefit the Presidential Scholars.
Advertisement Dimensions and Rates
Full Page Color Ad
5" x 8" vertical 
Half Page Color Ad
5" x 3.9375" horizontal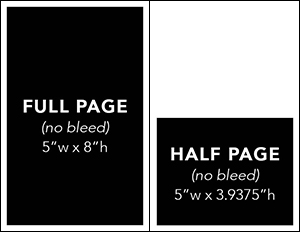 Please note the following ad production specifications:
Electronic files under 10mb in size can be sent as e-mail attachment. You may also send artwork via a third party upload service or you may mail in a CD-ROM/DVR-ROM. 
Preferred file formats: 
Adobe Acrobat PDF (fonts converted to outline and saved as a press quality pdf)
300 DPI flattened TIFF files. (Photoshop)
Adobe Illustrator: EPS (fonts converted to outline and linked images packaged)
All graphics should be at least 300dpi at the same size used in the layout
Color images should be CMYK
All spot colors should be converted to CMYK 
 
Artwork Deadline: April 10, 2020
Please send email to jbohlen@csudh.edu
or send CD-ROM/DVD-ROM to:
Jo Bohlen
CSU Dominguez Hills
1000 E. Victoria Street, WH 400
Carson, CA 90747
All artwork related questions should be directed to Jo Bohlen, Graphic Designer via email at jbohlen@csudh.edu or by calling (310) 243-3913.
For additional information regarding sponsorship opportunities please contact: Office of Development at (310) 243-2182.