Proyecto Archeológico Tumbes
Welcome to the Proyecto Arqueológico Tumbes (PAT), a multi-year bi-national program of archaeological research located in far northern Peru.  Long considered a cultural backwater marginal to better-known regions of Ecuador and Peru, our research demonstrates that the Tumbes region was home to a series of important prehistoric developments and involved in long-distance trade and interaction with prehispanic cultures to the north and south.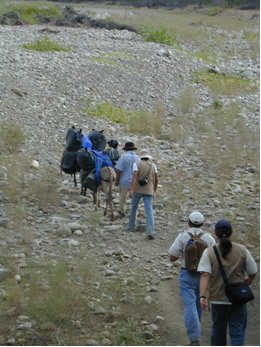 Archaeologists explore a section of the Inca road in the Tumbes
back country
An Archaeological Tierra Incognita
Tumbes has been the scene of less archaeological research than any other region in Peru.  Since 1996 team members have conducted archaeological surveys, test-excavated at two late prehispanic sites, studied comparative artifact collections in Peru and Ecuador, carried out a pilot ethnoarchaeological study of vernacular architecture, and in 2006 excavated at two prehispanic village sites, El Porvenir and Loma Saavedra.  This research has established the empirical frameworks for the proposed excavations that are essential for understanding the archaeology of the prehispanic Andes.
CSUDH Student Catherine Lopez excavates a prehistoric house
Upcoming Events
In 2006-2007 we will analyze the results of the 2006 excavations.  In April 2007 we will resume excavations at two other sites, Uña de Gato and Santa Rosa.