Soconusco Ethnoecology Project
The Soconusco Ethnoecology Project is an ongoing, multi-faceted program directed by Dr. Janine Gasco, Professor Emeritus. Between 2000 and 20018, Dr. Gasco traveled with more than 70 students to Soconusco to explore the  nature of relationships between the people of Soconusco and their environment in the past and present. The project builds on a large body of archaeological, historical, and ethnographic research in the Soconusco region carried out over the past thirty-five years.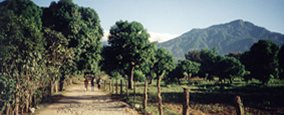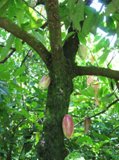 The Soconusco region is located along the Pacific coastal plain and the foothills of the Sierra Madre mountain range of Chiapas, Mexico.  Soconusco's climate is hot and humid with annual rainfall reaching over five meters in some areas. Soconusco is one of the most fertile regions of Mexico, and parts of the region have been identified as among the most botanically diverse regions of the world. The region has a large population of farmers who engage in subsistence farming, and a way of life based on corn farming and a heavy reliance on forest products is well-documented going back to Precolumbian times.  Following the Aztec conquest of the region in the 1480s, Soconusco towns paid tribute in cacao beans, the seeds of the Theobroma cacao tree, as well as other wild forest products including game and feathers of tropical birds.

During the Spanish Colonial period, archival documents indicate that forest products like cacao, vanilla (Vanilla planifolia), and achiote (a red coloring/flavoring from the seeds of the achiote tree, Bixa orellana) were major economic products of the region. Forest products continue to play a central role in the lives of local people, although these products no longer figure prominently in the regional economy, and population growth, deforestation, and changing economic conditions are now threatening both the environment and the traditional rural culture.
| | | |
| --- | --- | --- |
| | | |
| Cacao seeds drying | Achiote Tree | Achiote paste used in many foods |
 The possibility that valuable environment knowledge may soon disappear prompted me to initiate what began as "salvage" ethnobotanical research in 2000. Together with students who have enrolled in the CSUDH Mesomerican ethnobotany and ethnoecology field courses since 2000, we have recorded information about a variety of land-use practices focused principally on traditional agroforestry practices. Additionally, archival and archaeological research has explored continuity and change in these practices from ancient times to the present.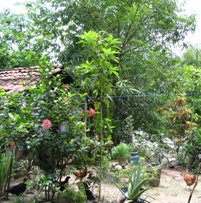 The Soconusco region, like so many other places in the world today, is experiencing serious environmental, economic, and social problems.  These problems are not isolated but instead they are inextricably linked.  Due, in part, to economic restructuring in Mexico (and the world), Soconusco's small-scale farmers find it increasingly difficult to support their families, and local residents are now migrating in large numbers to the U.S. and elsewhere, creating a host of social problems.  Although forest products have long played an important role in the local economy, today farmers are producing fewer of these products because they cannot sell them.  As a result, preserving the forest has become less of a priority, and as the forest disappears, people are even less likely to rely on forest products.  Environmental degradation, economic decline, and out-migration are all part of the same vicious cycle.

Research in tropical forest regions in other parts of the world has demonstrated that a better understanding of  traditional agroforestry systems can often lead to the development of more sustainable forest management strategies that can have positive social and economic effects.  Agroforestry refers to land-use management practices where trees and other crops are grown together. Traditional agroforestry systems are often sophisticated systems developed over centuries or even millennia that not only meet many local needs but also are based on sound and sustainable forest management principles.  Moreover, these systems can serve as models for the design of forest management strategies that can both slow the pace of deforestation and meet the health, social, and economic needs of populations in the tropics.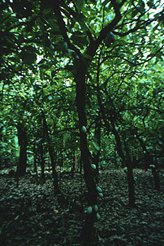 One goal of the Soconusco Ethnoecology project is to explore the traditional agroforestry systems in Soconusco. Traditional agroforestry systems around the world typically include three key elements: 1) managed forests or "forest gardens," 2) swidden agriculture and managed fallows, and 3) home or kitchen gardens.  All three elements are found in Soconusco, and they are currently a central focus of the research. To date we have carried out pilot research on home gardens, and we have explored historical "forest gardens" (where cacao is the principle crop) as well as contemporary "forest gardens" (also cacao oriented).  We have also investigated swidden agriculture/managed fallows systems.  
Another goal of the project has been to seek support for Soconusco farmers who cultivate forest crops.  We have met with farmers groups on various occasions to discuss strategies for improving their ability to sell their crops—particularly cacao—at fair prices.
| | | |
| --- | --- | --- |
| | |   |
| Dr. Gasco meeting with Soconusco farmers | Chocolate-maker, Steve DeVries talking to Soconusco cacao farmers | Chocolate-maker, Shawn Askinosie talking to Soconusco cacao farmers sampling cacao |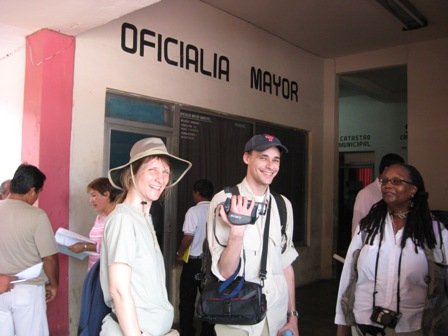 Sonja Ulrich, Jeff Lewis and Gloria Evins meeting with municipal authorities who are promoting local cacao farmers. (2008)
Winter 2018: Traditional Mesoamerican Agriculture and Sustainability [PDF]
Publications related to the Soconusco Ethnoecology Project [PDF]