Contact Us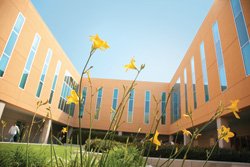 Have any questions? Feel free to contact us via email, via telephone or in person. We're here to help.
[Get Adobe Acrobat reader free here.]
Visit Us
The Career Center
Welch Hall (WH), Room D-360
1000 East Victoria Street
Carson, CA 90747
Telephone: (310) 243-3625
Fax: (310) 516-3651
Email: careercenter@csudh.edu
Campus Map and Career Center Location [PDF]
Driving Directions
Parking Machines
Office Hours
Monday thru Friday, 8 am - 5 pm
Local Airports
The closest airports to Cal State Dominguez Hills are Los Angeles International Airport (16 miles) and Long Beach Airport (15 miles).
We are centrally located in Carson, California, midway between downtown Los Angeles and the ports of Long Beach and Los Angeles.
Hotel Accommodations near CSUDH
Double Tree Hotel - Civic Center
2 Civic Plaza (Carson St. and San Diego Fwy)
Carson, CA 90745
(310) 830-1418
(Shuttle service to campus available)
Ask for CSUDH campus guest rate.
Miyako Hybrid Hotel
21381 S. Western Ave.
Torrance, CA 90501
(310) 212-5111
Ask for CSUDH campus guest rates.
Courtyard by Marriott
1925 W. 190th St.
Torrance, CA 90504
(310) 532-1722
Holiday Inn
19800 S. Vermont
Torrance, CA 90502
(877) 894-6791