Faculty Center
[Get Adobe Acrobat Reader Free here.]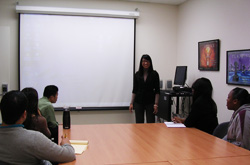 You Care About Your Students' Success. So Do We.
CSUDH faculty are well known for supporting their students' success, both inside and outside the classroom. If you're interested in introducing your students to career opportunities, as well as resources for personal and professional development, our Career Coaches offer a number of services to help you help them. Contact us to learn more.
Our Career Coaches are available to conduct classroom presentations and workshops for your students covering a variety of topics related to your course content.
If you're concerned about a student's behavior or know of a student encountering personal challenges, we can help.
Posting On-campus Jobs & Internships for Students
Do you have a research position, departmental student assistant job, internship (volunteer or paid) or other employment for a current student?  All these opportunities can be advertised on CSUDH Handshake, the online posting site for employers seeking CSUDH students.  Students are told to check out CSUDH Handshake first when searching for employment and internship positions!  The service is free and easy to access.  Contact Mark Abdalla, Office Coordinator, for more information at mabdalla@csudh.edu.
Need help with developing your internship or job description, or getting it posted? Call us at the Career Center.