For more information about the university's response to COVID-19, go to the Toros Together Page
Welcome to the Modern Languages Department
Message From the Chair

Welcome. The Department of Modern Languages is well known for its rigorous academic standards and expectations as well as for a profound care and concern for students. The full-time faculty are skilled and knowledgeable advisors who can help you to become a success story in your eventual profession. Tanto sabes, tanto vales, and a BA is necessary for a well-paid and fulfilling career. Specifically, a Spanish major will certainly go a long way to opening many doors to job opportunities in the private or publics sectors. Many of our graduates go on to an MA degree or a teaching credential.
I hope that you are interested in taking some classes in the department; indeed I anticipate that you will choose Spanish as a major or as a practical complement to any other major. The recent developments regarding NAFTA, the Pacific Rim, and the changing demographics of the United States all clearly show the need to be very bilingual and biliterate.
Another opportunity is participating in the CSU International Program. This means studying a least one semester in Spain, Mexico, Costa Rica, or Chile and not skip a beat. The pre-approved courses taken abroad count in the Spanish major and, in some cases, financial aid is transferable. Thus you can study, travel, and still graduate on time. Consult with your advisor first.
The department's professors are willing to assist in preparing your schedule of classes. By the way, some of you have already taken some Spanish courses in high school or in a community college. Some of you are heritage speakers. The road to a BA in Spanish major is shorter than you think!
I look forward to seeing you at CSUDH, certainly in one of my own classes.
Respectfully,
Ivonne Heinze Balcazar, Ph.D.
Chair, Modern Languages
News & Announcements 
---
The College congratulates Thaithao Nguyen (History) and Jesús Eduardo González Franco (Spanish), both students in the College of Arts and Humanities, who were named 2018-19 Sally Casanova Scholars!
Click the image to read more!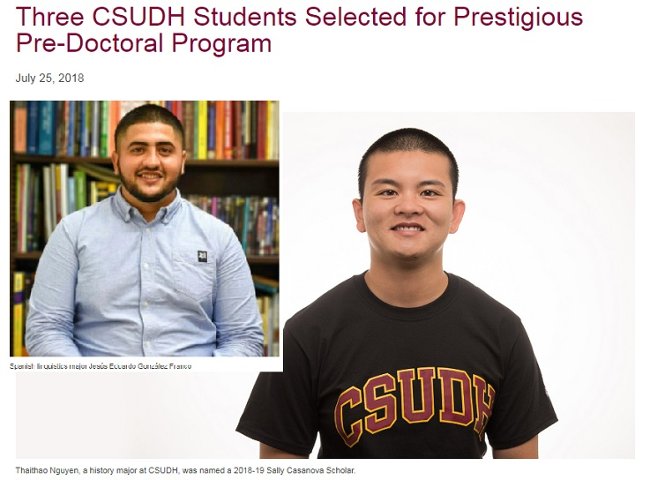 For more information on the  California State University system's (CSU) competitive California Pre-Doctoral Program click here.
---
Click on the image above to read the exclusive story!
---
On Thursday, March 22, 2018, California State University Dominguez Hills honored the Department of Modenr Languages during 2018 Faculty Awards Reception.  Dr. Benito Gomez received the Excellencein Research, Scholarship, and Creative Activity Award.

The Excellence in Research, Scholarship and Creative Activity Award was established in 2004 to acknowledge research, scholarship, and creative activity are essential components to the CSUDH mission.  Moreover, this award recognizes these professional activities provide intellectual stimulation and motivation for student learning, are an impetus for students to emulate the work of their professors, and bring recognition and prestige to the institution; it is important to recognize faculty who are working at the frontier of their discipline and contributing to human knowledge. Maintaining current involvement in their disciplines enables CSUDH faculty to be part of, and to reach out to, the academic community at large as well as the immediate community that we serve; that scholarship, research and creative activity distinguish the professional work of faculty in higher education; and further, that CSU Dominguez Hills has a tradition of excellent research, scholarship, and creative activity.  The criteria for this award shall include consideration of: the quality and number of peer-reviewed publications; the extent of externally funded work; the visibility or recognition of creative activity; evidence of originality and creativity; evidence of excellence, including exhibitions, presentations, invitations; awards, citations, and recognition by peers and the public.
Congratulations, Dr. Benito Gomez!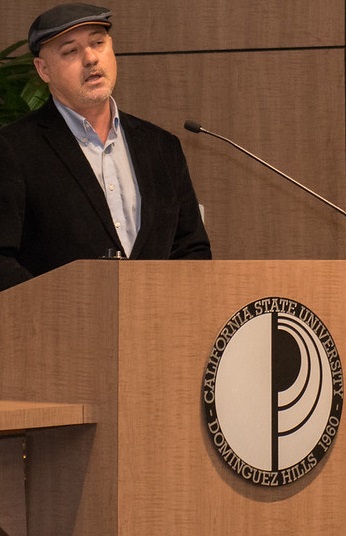 Dr. Gomez delivering a heartfelt and emotional speech during the 2018 CSUDH Faculty Awards Reception.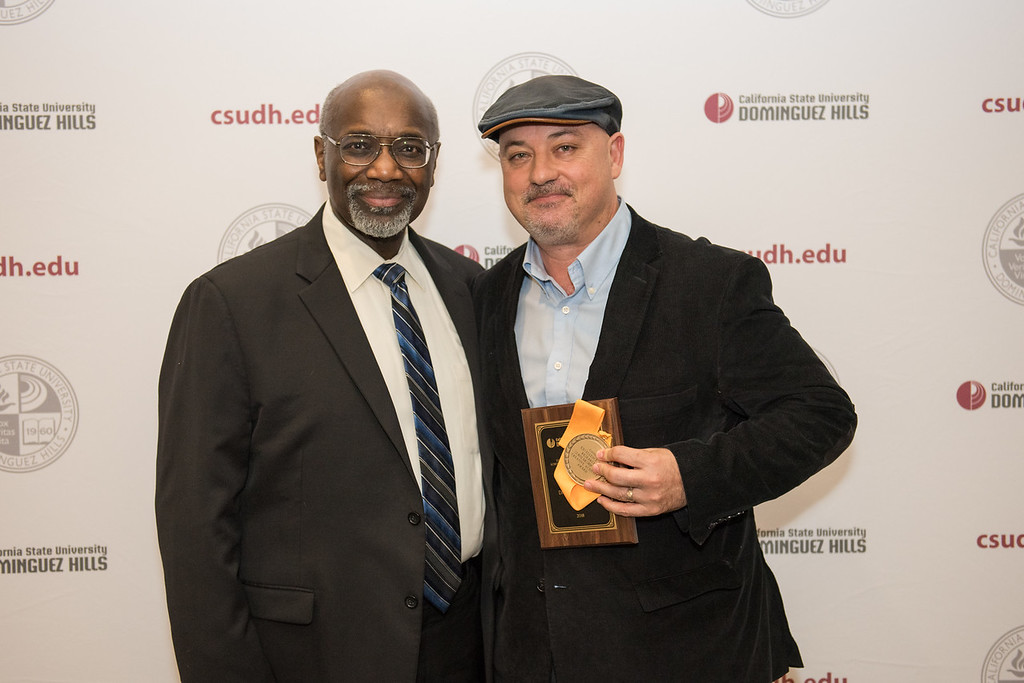 President Hagan presenting Dr. Benito Gomez his Award.
---

Congratulations to the Class of 2013 B.A. in Spanish Majors

Mental Health Conference, April 26, 2013 [PDF]

Homage to writer Elena Poniatowska [PDF]