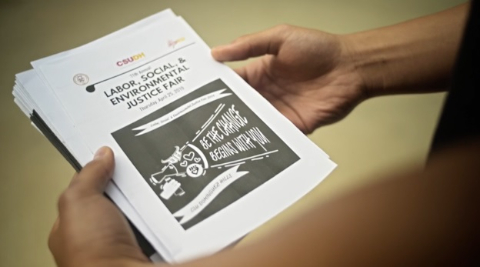 LABOR STUDIES SCHEDULE - Fall 2023
Registration for next semester's classes begins Monday April 17, 2023
To register for classes, you must:
Register on mycsudh.edu as soon as you are able (help us avoid having classes cancelled!)
Pay your fees on time to avoid being dropped
Major, minor, or certificate students (or those interested):

Review your Labor Studies Major, Minor, or Certificate requirements on the my.csudh.edu "Academic Requirements" page
Call, email, or visit Labor Studies for an advising appointment with your advisor to assure that you are continuing to fulfill all requirements for graduation. After your advising is complete, your academic advisor will lift the registration hold.
Community College Cross-Enrollment Opportunity:
If you're taking 6 units in a community college you can cross-enroll in any CSUDH class that has space for only $10.
For any questions, please contact Labor Studies Chair Steve McFarland at smcfarland@csudh.edu.