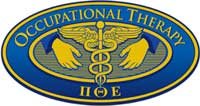 Pi Theta Epsilon (PTE) is a specialized honor society for occupational therapy students and alumni. The society recognizes and encourages superior scholarship among students enrolled in professional entry-level programs at accredited educational programs across the United States.
Mission
The mission of Pi Theta Epsilon is to promote research and scholarship among occupational therapy students.
Purposes
The purposes of Pi Theta Epsilon (PTE), as stated in the society's constitution, are to:
Recognize and encourage scholastic excellence of occupational therapy students;
Contribute to the advancement of the field of occupational therapy through scholarly activities, such as research development, continuing education, and information exchange between student and alumni members; and
Provide a vehicle for students enrolled in accredited programs in occupational therapy to exchange information and to collaborate regarding scholarly activities.
From The American Occupational Therapy Foundation.
Faculty Advisor: Sheryl Ryan, PhD, OTR/L     
Policies & Procedures: Reports to the AOTF, the Dept & ASI
Organization Email: 
President                    Sophie Davis      
Vice President            Gabriela Amaya     
Secretary                    Katherine Bracewell   
Treasurer                    Joanna Redelman     
Fundraiser Chair        
Mentorship Chair       
PR Chair