STUDENT PLACEMENT AGREEMENT GUIDELINES DURING COVID-19
The Student Placement Agreement Guidelines During COVID-19 found below are provided to implement guidance provided by the Chancellor's Office Experiential Learning during COVID-19 Memo issued June 25, 2020. 
COVID-19 has posed new and emerging risks to students engaged in this experience. As a result, in connection with the fulfillment of students' academic requirements, students are being offered the option of a) delaying training during the COVID-19 pandemic; (b)  training conducted virtually or online if permitted by licensing or accrediting bodies; or (c)  training conducted on-site at a Facility.
These Guidelines are intended specifically for students who voluntarily elect to participate in academic learning activities conducted on-site at selected Facility and require a new or renewal Agreements. This process does not apply to students conducting virtual/remote placement activities. An Amendment Agreement to include COVID-19 language will not be required for active and fully executed Agreements.
The Guidelines shall be used to request new and renewal Agreement both by clinical and non-clinical Program Directors and/or Designees, including but not limited to, student teaching, clinicals, practicums, internships, service learning, field placements, etc., ("Programs").
Students enrolled in experiential learning programs should be given a virtual learning option—to the extent allowed by accrediting and credentialing bodies—in order to complete their course work. This should include allied health clinical experiences and education programs (student teaching) if and when possible.
Please review the Student Placement Agreement Guidelines During COVID-19 for complete details.
FORMS
Student Liability Waiver (Waiver not Mandatory)
Safety Training (Video)
VENDORS AND CONTRACTORS COVID-19 GUIDELINES
Guidelines for Vendors and Contractors During the COVID-19 Pandemic
The health and safety of our students, staff, faculty as well as their families are of the utmost importance to CSUDH. In accordance with federal, state and local guidance, the university has taken steps to reduce the number of people on campus and as such, vendors and contractors delivering goods and performing work on campus shall adhere to the following guidelines:
Guidelines for Vendors and Contractors During the COVID-19 Pandemic
For additional vendor resources please visit https://www.csudh.edu/procurement/vendors/
REQUISITIONS
Emergency Requisitions (PeopleSoft)
In light of the current situation with COVID-19, we have established the following process for entering emergency requisitions in PeopleSoft.
When entering a new requisition that needs immediate attention related to COVID-19, please ensure that "CRITICAL" is entered as the first word in the description box.

Campuses are required to separately track costs associated with COVID-19 for reporting purposes, and we have created a new program code, COV19 for this purpose. For departments who already have program codes established and want to retain them, COV19 may be used as either the program or class code. Please be sure to use COV19 for costs associated with COVID-19.

Please upload all backup and documentation pertinent to your procurement (including email approvals) request in the Header Comments.
All other requisitions entered in PeopleSoft shall follow the normal process. If you have any questions please contact Maria Hernandez, mehernandez@csudh.edu.
Requisition (Paper Submittal)
In the event the requestor does not have access to PeopleSoft, and must complete an emergency requisition, please submit the paper Requisition form to Maria Hernandez at mehernandez@csudh.edu.
HOME DELIVERIES
PROPERTY LOANER PROGRAM
Prior to purchasing new equipment, employees, in consultation with their supervisor, shall determine if existing property may be borrowed from their office to help them perform their job from home.
If property does not exist in an employee's office that can be borrowed, the employee should complete the Campus Return Authorization Form [PDF] and forward it to their supervisor, who will approve and submit it on their behalf. An email submission to a supervisor will serve as the employee's signature of the form. 
Instructions for Campus Return Authorization form: To fill out, please download the form and open with Adobe Acrobat Reader. Once filled out, rename and save the form, adding last name before submitting.
After the form is processed, an employee will receive an email with a date for when they can return to campus to collect your items. The employee may not return to campus until they are provided with this return date via email.
Equipment approved for the property loaner program includes:
Webcam
General office supplies
Mouse
Anti-slip mat
Keyboard
Footrest
Keyboard wrist pad
Chair
Monitor(s)
The following items may not be removed from campus: Desks, filing cabinets, printers, desktop computers, furniture of any kind other than chairs.
Requests for exceptions must be submitted to a supervisor and receive VP/designee sign off. 
Any purchases of additional office equipment to perform work remotely must follow the below instructions for Purchasing Restrictions and Home Deliveries. 
PURCHASING RESTRICTIONS
No furniture is authorized at this time.
IT hardware and software (including computers, scanners, printers, MiFi, webcam, and headsets) are not authorized for home delivery.
In the event that any hardware and/or software is required for home use, the employee must first visit the IT Tech Loaner Program at http://techloaner.csudh.edu/ to verify if requested items are readily available through IT. If the item is available through IT, the employee will work directly with IT to obtain the requested item. If the requested item is not available through the IT Tech Loaner Program, consideration may be granted for a one-time purchase exception for hardware, provided that justification and Dean/AVP approval is submitted to Procurement and Contracts, Maria Hernandez, Associate Director, mehernandez@csudh.edu.
If an exception is received, employee shall ensure the following:
All items are delivered to the campus Receiving Warehouse, 1000 E. Victoria Street, Carson, CA, 90747, Attn: Receiving Warehouse
If an item exceeds $500 (inclusive of taxes and shipping), item(s) must be asset tagged by Asset Management. Once the item arrives at the campus Receiving Warehouse the item will automatically be flagged for tagging.
The item will be delivered to the IT Tech Loaner Department.
The employee must complete the

 

Campus Return Authorization Form [PDF]

 

to pick-up item through the IT Tech Loaner program. If the employee cannot come on site, the employee and the supervisor will coordinate to allow another individual to pick up the equipment on employee's behalf, or request mailing to the employee's home. Please note that justification will be required to receive home delivery.
Exceptions will be handled on a case by case basis.
INSTRUCTIONS FOR HOME DELIVERIES (UNDER $500):
Purchases under $500 (inclusive of taxes, and shipping costs), shall be authorized for home delivery as follows:
Requester shall send detailed product information as well as a brief justification for home delivery to their appropriate administrator for review and approval.
Requester shall submit approvals as follow:

P-card: Requester may proceed with purchase once the approval has been obtained from the appropriate administrator. When purchasing IT equipment, requester must ensure approval from IT by emailing

 

it.pmo@csudh.edu. Approvals must be submitted with the P-card reconciliation.
Requisition: If requester does not have a P-card, a requisition via PeopleSoft must be submitted. Requester shall upload quote and home delivery approval/justification email in the attachment option in PeopleSoft. Buyer will place the order for home delivery and send a copy of order confirmation to requester.
Direct Pay: If using an approved Direct Pay category, requester must submit invoice and home delivery approval/justification with the Direct Pay Form and submit to AP for payment

Campuses are required to track costs associated with COVID-19 for reporting purposes. Requests must use COV19 program/class code in the chartfield for all requisitions, P-card, and Direct Payment requests.
The P-card Policy must be followed.
Please contact Maria Hernandez at mehernandez@csudh.edu for additional information, clarifications, or requests.
Rev. 8/11/20
STAPLES HOME DELIVERY PROCESS
During these unique times it is critical that we maintain continuity while we work from home. CSUDH in partnership with Staples has implemented a Work From Home (WFH) contingency program that will allow users to get home deliveries at CSU pricing using the university issued P-card. There is no minimum order. 
NO FURNITURE AUTHORIZED AT THIS TIME
To participate in the WFH program, please click on the registration link below. 
Please provide all pertinent information required to participate. You will receive new log in credentials different from one you use on campus. 
Please log in, create a new password and confirm you address is correct.  
Once we get thru the pandemic – the WFH contingency program will be deactivated and we will return to business as usual. 

Please let us know if you have any question or concerns. We are here to help. 
WFH eRegistration link:
HTTPS://REGISTER.STAPLESADVANTAGE.COM/DOREGISTER?REGFORMID=EFCZHI
Multiple Addresses 
Once the account is created, you may only enter one address. To request delivery to multiple locations Procurement must email a request to Staples to enter multiple addresses. To request multiple addresses please follow the following process:
Please provide the user ID for the user that will have multiple addresses
Send all new addresses to Sabrina Rodriguez at srodriguez@csudh.edu. 
Procurement will send request to Staples to get multiple addresses entered
It will take approximately 24-48 hours for the addresses to appear in the drop down of the specific user.
P-CARD RECONCILIATION
Updated 7/18/20
In light of recent developments with the COVID-19 pandemic where we will continue to operate virtually for the most part through the Fall 2020 semester, our P-card monthly reconciliation process is hereby modified effective August 1, 2020 as follows:
RECONCILIATION SUBMITTAL
All outstanding P-card reconciliation reports and supporting documentation/receipts, including email approval are due to Accounts Payable (A/P) no later than September 1, 2020 via email to

 

PCARDRECON@CSUDH.EDU. Thereafter, this documentation shall be submitted to

 

PCARDRECON@CSUDH.EDU  in accordance with monthly due dates communicated by A/P;
Scanned documents must be legible;
Pictures of receipts from cell phones are acceptable;
P-card holders shall retain the original receipts for two months after the monthly reconciliation is submitted to A/P; receipts may be shredded after the two month period has elapsed;
Those who are unable to comply with this process shall notify Maria Hernandez, Associate Director, Procurement and Contracts at

 

MEHERNANDEZ@CSUDH.EDU

 

of what is needed to complete digital P-card reconciliation submissions;
Any outstanding monthly reconciliation submissions will be reported to VPs effective 9/1/20 and will be processed as a P-card "violation" in accordance with Procurement P-Card Policy found at: 

 

HTTPS://WWW.CSUDH.EDU/PROCUREMENT/PROCUREMENT-CONTRACTS/PROCUREMENT-CARD
Questions regarding the P-card process may be directed to Nicholas Salcido, P-card Administrator at P-CARD@CSUDH.EDU or Juan Carlos Rodriguez, A/P Travel/P-card Specialist at JCRODRIGUEZ@CSUDH.EDU .
SIGNATURES
In lieu of wet signatures, we will be accepting electronic signatures via Adobe Acrobat. P-card holders or approvers that require assistance with Adobe electronic signatures shall contact Maria Hernandez, Associate Director, Procurement and Contracts at MEHERNANDEZ@CSUDH.EDU.
ACCOUNTS
Please ensure that you are assigning the correct account number for each charge on your reconciliation. Below are the most frequent categories for purchases and their corresponding account numbers.
660003 – Supplies and Services
606001 - In-state Travel (for employees and students only)
606002 – Out of state Travel (for employees and students only)
660009 – Professional Development
660042 – Recruitment
608005 – Subscriptions (this is only for Library use) others please use 660003)
660017 – Advertising
EMERGENCY PURCHASES (COVID-19)
Campuses are required to separately track costs associated with COVID-19 for reporting purposes, and we have created a new program and class code, COV19 for this purpose. Please be sure to use COV19 for costs associated with COVID-19. Cardholders may use COV19 as either the program code or the class code fields.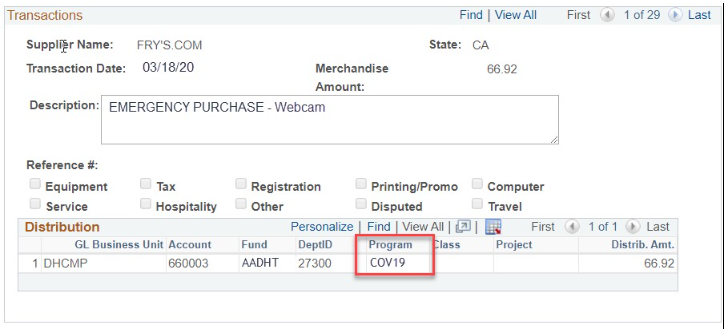 TRAVEL
If there are travel expenses on the statement, cardholders must include the TI (travel in state) or TO (travel out of state) numbers. Any travel expenses incurred due to COVID-19 shall also have the program code or class field COV19 on the chartfield.
If you have any travel-related questions please email Juan Carlos Rodriguez at JCRODRIGUEZ@CSUDH.EDU. For any other questions relating to P-card reconciliation please contact Nicholas Salcido at P-CARD@CSUDH.EDU.