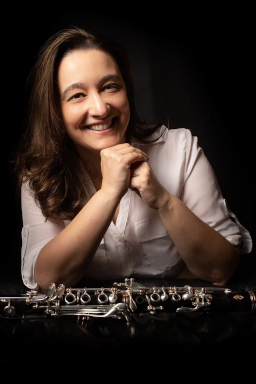 Contact Information
Praised in The Clarinet Magazine for her "intense musicality … and unapologetic interpretations," Los Angeles-based clarinetist Virginia Figueiredo is an internationally active performer, recording artist, and educator. She has toured extensively throughout the United States, Europe, South America, and Asia as a soloist and chamber musician, and her performances have been featured on radio broadcasts in both Portugal and the United States.
In Southern California, she performs regularly with The Pacific Opera Project, the Luso-American Duo, and numerous other orchestras and chamber ensembles. As a recording artist, Figueiredo has released three albums to critical acclaim: her debut solo album, Seule, was a 2018 Global Music Awards silver medalist, while her 2014 album with The Divan Consort, Refuge, earned a first-round GRAMMY nomination in 2015 as well as a Global Music Awards gold medal. A passionate advocate for new music, Figueiredo has commissioned and premiered works by Bill Kraft, Ken Walicki, Jenni Brandon, Pamela Madsen, Luis Saglie, among many others.
As an educator, Figueiredo is a frequent clinician and teaching artist for clarinet festivals and masterclasses around the world. Virginia is the clarinet professor at California State University, Dominguez Hills, Loyola Marymount University, Moorpark College, Pierce College, Cerritos College, Long Beach City College, and at the LACC Herb Alpert Music Center. She's also a teaching artist with the Los Angeles based Harmony Project. Figueiredo holds a DMA in Clarinet Performance from the University of California, Los Angeles, in addition to degrees from the Lisbon Superior School of Music and California State University, Fullerton. Her principal teachers have included Olga Prats, Nuno Silva, Carlos Alves, Håkan Rosengren, and Gary Gray. Figueiredo is a Silverstein and Yamaha endorsed artist.