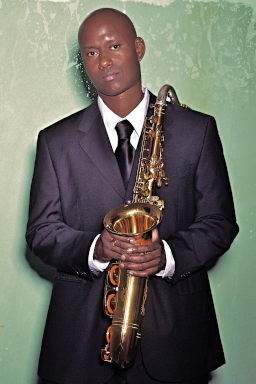 Contact Information
La Corte Hall E-305
As a musician, Dr. Teodross Avery stands as one who defines live music—best experienced front row, and full throttle. His commanding presence, on stage and off, reflects his musical ingenuity and skill. With an outstanding pedigree, both professionally and academically, Teodross is a saxophonist to watch, as evidenced by many of today's biggest names in music relying on his wide musical reach.
While growing up in Oakland and Vacaville, California, Teodross' parents exposed him to a wide range of music including traditional Eastern and Western African music, Soul, Rock, and Jazz. At ten, his father started him with classical guitar lessons. Jolted by the sound of John Coltrane's 'Giant Steps,' Teodross switched to the saxophone at thirteen. As a testament to his young promise, the great Wynton Marsalis purchased a saxophone for him. At 17, Teodross eventually won a full music scholarship to attend the prestigious Berklee College of Music in Boston.
While at Berklee, renowned A&R exec, Carl Griffin of GRP/Impulse Records, heard of Teodross' cutting edge sound and eventually signed him at 19, stating, "I was so thoroughly impressed with his lyricism and writing talent". In 1994, Teodross launched his first album In Other Words, which was welcomed by critical acclaim, including a five star review in USA Today. Still an undergraduate, Teodross was now feverishly in demand by the likes of Aretha Franklin, Betty Carter and Ramsey Lewis. He balanced all of these demands and completed college while on the road in 1995.
After graduating, with a wealth of professional experience to add, Teodross did what any other talented musician would do – he tackled New York City. After just one week in New York, he performed at the legendary Bluenote Jazz Club with the Cedar Walton Sextet, featuring Art Farmer on trumpet. He also played and/or recorded in groups that were either led by or included jazz titans such as Hank Jones, Ben Riley, Harold Mabern, Cyrus Chestnut, Lewis Nash, Donald Harrison, Bobby Watson, The Roy Hargrove Big Band and(3X) Grammy Award winner, Dee Dee Bridgewater, among many others. He landed a performing role in the successful film Love Jones in 1995. He then launched his second album, My Generation, under the GRP/Impulse label, in 1996. "This album was ahead of it's time. I was starting to mix Jazz with the Hip Hop sound of The Roots (The Tonight Show with Jimmy Fallon) by adding frontman, Black Thought and the Rock-influenced sound of John Scofield" says Teodross.
Shortly after releasing My Generation he performed with the likes of Leela James, Roy Ayers, andMos Defamong many others. Lauryn Hill requested him as a member of her sold-out world tour from 1998 to 1999. On the heel of the Lauryn Hill tour, Teodross was invited in 2000 to tour with the mega rock group Matchbox Twenty.
As a composer and producer, Teodross has amassed a stunning number of credits, which include the feature films Beauty Shop, Brown Sugar, andLove Jones. He has also written music for Amy Winehouse'sdebut album, 'Frank' (Island Records).
His television performances include: Blackish (2015), American Idol, MTV's TRL, The Ellen Degeneres Show, The CBS Morning Show with Epic Recording Artist, Shakira (2006), VHI, Regis & Kelly with Leela James(2005); The Essence Awards, Soul Train Awards, Source Awards, Saturday Night Live, MTV Awards, Billboard Music Awards with Lauryn Hill (1998-99).
As a session saxophonist, Teodross has collaborated with a number of award-winning artists on their productions, including Amy Winehouse – Frank (Island Records) 2004 Gold Record; G-Unit All Stars (Shady/Aftermath Records) 2004 3X Platinum; Joss Stone – Mind, Body, & Soul (EMI) 2004 2X Platinum; Talib Kweli – Quality (Rawkus Records) 2002 Gold Record; Talib Kweli – Reflection Eternal (Rawkus Records) 2000 Gold Record; Dee Dee Bridgewater – Dear Ella (Verve Records) 2X Grammy Winner 1997.
Teodross received a Doctorate in Jazz Studies (DMA) from the University of Southern California (2016), he holds a Masters degree in Music from the prestigious Steinhardt School of Education at New York University(2006). He is also the recipient of multiple awards, including The Sony Innovator Award (1992), The National Foundation for The Advancement in The Arts' Clifford Brown/Stan Getz Fellowship (1992), and The NAACP ACT-SO Award (1991).
Teodross joined the faculty of the CSUDH Department of Music, in the Fall of 2017, as the Assistant Professor of Jazz Studies and Commercial Music.
For booking or more information, contact Teodross Avery on his website: https://www.teodrossavery.com/