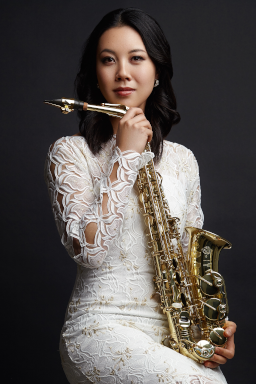 Contact Information
La Corte Hall A-335
Fall 2019 Office Hours
Tuesday, 1:00pm - 2:00pm
Thursday, 1:00pm - 2:00pm
Chika Inoue is one of the most promising saxophonists of her generation. She has been praised for her "beautiful tone, acute sensitivity and virtuosic technique." James Conlon, music director of LA Opera has congratulated with "one of the most beautiful saxophone sound I have ever heard." She has performed with orchestras and at concert halls internationally, appearing as soloist and chamber musician in the United States, Germany, Italy, China, and Japan with lavishing admiration. She appears as a saxophonist in the Los Angeles Philharmonic.
Chika regularly performs in Japan, and appears in international venues throughout the world. She has been a featured performing artist in international festivals such as The Faenza International Saxophone Festival in Italy, The International Clarinet and Saxophone Music Festival in Taiyuan, China, and Astoria Music Festival in Oregon, USA.
A native of Osaka, Japan, Chika spent most of her youth in Frankfurt, Germany and San Diego, California. She has won first prize laureate at the Japan International League of Artists Music Competition, the La Jolla Symphony & Chorus Artists Competition, Redlands Bowl Artist Competition, Fresno Musical Club Bell T. Richie Award, and the Beverly Hills National Auditions. A graduate of the USC Thornton School of Music (D.M.A.), California State University, Fresno (M.A.), and UCLA Herb Alpert School of Music (B.A.), Chika is dedicated to sharing her knowledge with students. She is currently on faculty at California State University, Dominguez Hills. She is a Conn-Selmer Performing Artist endorsed by Henri Selmer Paris saxophones, as well as Vandoren, lefreQue and Key Leaves performing artist.
Chika is committed to sharing classical saxophone music and its diverse capabilities across the spectrum of music with audiences worldwide. She is currently based in Los Angeles, California, U.S.A.