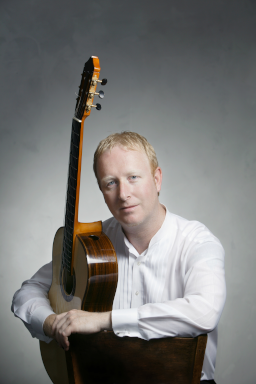 Contact Information
La Corte Hall A-349
Office Hours for Fall 2020
Monday/Wednesday: 3:30pm - 5:30pm
Thursday: 12:00pm - 2:00pm
Scott Morris gave his New York recital debut at Carnegie Hall in 1998. He has since appeared as a soloist and chamber musician throughout North America, Central America, Europe and Asia. In 2005 he gave solo concerts in both Beijing and Shanghai to great critical review. A 2008 solo performance in Beijing was given at the famous 1,800-seat National Opera House and broadcast on Chinese Central Television (CCTV). Recent festival appearances have been made at the St. Joseph Guitar Festival, Boston Guitar Fest, the Iserlohn International Guitar Symposium (Germany), American Guitar Society, Beijing Guitar Festival (China), the Bath Festival (England), FIMM (Mexico), and the Dominguez Hills Guitar Festival (Los Angeles).
He is a founding member of the groundbreaking eclectic guitar project LINE FORMS HEAR with jazz/rock guitarist Julian Coryell (guitarist for Alanis Morissette), the Hollywood Guitar Duo, and the Kravchak Morris Duo. He has performed in duo recital with violinist and LA Phil concertmaster Martin Chalifour. Other collaborations include Jeff Young (formerly of Megadeth), Steven Thachuk (guitar), Rik Noyce (flute), Matthew Greif (LAGQ), Steve Perry (formerly of Journey), and the Grammy-winning™ guitarist/composer Andrew York.
Morris is equally respected for his work on the concert stage, in the classroom, as an author, and in the recording studio. He has recorded numerous CDs including: The Guitar Music of Paganini (Centaur Records), Phonology: the Music of Erik Satie for Guitar (AIX Records), Danza (Eroica Classical), Invocation (Eroica Classical), and Hollywood Guitar Duo (Eroica Classical). On Danza, Scott worked with longtime Neil Young producer Niko Bolas. 20th Century Guitar Magazine called Danza, a "classical guitar masterpiece". A review of his CD Solo Guitar Music of Paganini by American Record Guide said that "Morris plays with considerable elegance and charm…this is a worthy performance". His latest recording for AIX Records is called Phonology: the Music of Erik Satie for Guitar, which includes performances with Andrew York (guitar) on historically important French guitars supplied by GSI (Guitar Salon International). The project also includes a 70-page book of Scott's original arrangements of the music published by MidShelf Music. His two volume method book series Classical Guitar Complete: From Basics to Bach (MidShelf Music) is currently one of the best selling classical guitar methods on the market and the companion videos produced by Guitar Salon International are ranked among the most popular online tutorials.
Currently, he is this Supervisor of Guitar Studies at California State University, Dominguez Hills and the CSU Summer Arts Guitar Course Coordinator in Monterey, CA. He also served as the Convention Director for the 2007 Guitar Foundation of America (GFA) Convention and Competition in Los Angeles. He has studied at Yale University, the USC Thornton School of Music, the Aspen Music Festival, Musician's Institute (GIT), Mozarteum Sommerakademie (Salzburg, Austria) and Claremont Graduate University from which he holds the degree of Doctorate of Musical Arts. He uses D'Addario strings exclusively and has been endorsed by the company since 1998.
FOR BOOKING OR MORE INFORMATION CONTACT: scott@scottmorris.net