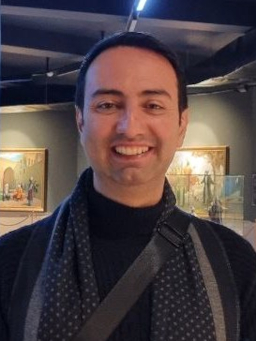 Lecturer
Contact Information
Reza Yeganehshakib's research interests include world history, Middle East, political economy, environment, and energy; as well as, and international relations of the Middle East.
He completed his Ph.D. in history at University of California, Irvine, his M.S. in Environmental Studies at California States University, Fullerton, and his B.S. in Chemical Engineering at Azad University of Iran.
He was awarded Summer Dissertation Fellowship, The School of Humanities, University of California, Irvine, June 11, 2013; Persian Studies Dissertation Fellowship, University of California, Irvine, June 5, 2013; Graduate Student Research and Travel Award, University of California, Irvine, December 4, 2011; Ali Asghar Payravi Graduate Fellowship, Administered by the Samuel M. Jordan Center for Persian Studies and Culture, University of California, Irvine, September 13, 2010; and Humanities and Social Sciences Master's Thesis Award, California State University Fullerton, May 1, 2008.
Selected Articles:
"Is Netanyahu's Iran Story Expiring?" The Institute for Peace and Diplomacy. November 23, 2019.
"The Baku-Tbilisi-Kars Railroad: Peace & Prosperity Through The Revival Of The Silk Roads." Silk Road Briefing. April 15, 2019.
"Revival of an Old Rivalry: Saudi Arabia and Qatar Clash." International Policy Digest. June 20, 2017.
"Iran's New Generation of Oil and Gas Contracts: Historical Mistrust and the Need for Foreign Investment," The Journal of Political Risk. Vol. 3, No. 4, April 2015.
Selected Media Presence:
"The Development of One Belt and One Road Initiative in Central and West Asia: The Political and Economic Challenges." What is Asia. January, 13, 2022.
"G7 Summit on Afghanistan." Indus News. August 26, 2021.
"The Latest Transformation in Afghanistan". Radio Tehran, Friday with Politics. July 9, 2021.
"Scotland, Hungry for Independence." Hemayat Newspaper. December 3, 2020.
"Normalization deal between some Arab states and Israel and the consequences of Trump losing the election." Press TV. September 19, 2020.
"Scope with Waqar Rizvi: The Human Cost of the War On Terror." Indus News. September 10, 2020.
"Saudi Arabia, Lebanon, and the Region's Transformations." Jahan Ara TV Program, Ofogh TV. November 11, 2017.
"Crack in the Gulf Will Deepen (Körfez'deki çatlak giderek DERİNLEŞECEK)." By Mustafa Birol Guger. Aydinlik Gazete, Turkey, June, 9, 2017.
"What India's strategic fuel reserve means for Gulf oil producers." By Ehtesham Shahid, Al-Arabiya. March 2, 2017.