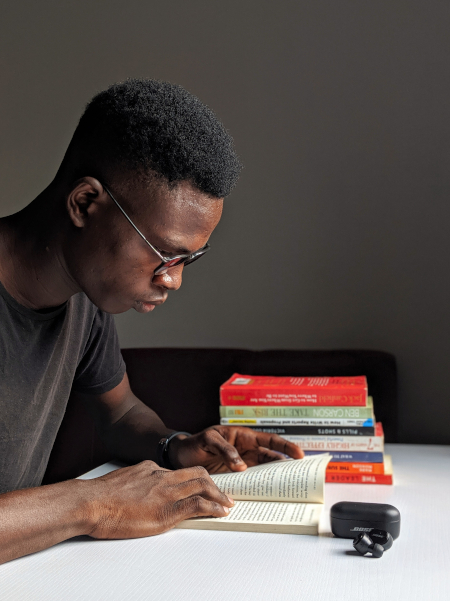 The English Department offers three major programs and three minor programs—a variety of ways for students to explore the intersections of language, literature, and the diversity of human experience. Our programs encourage students to read deeply and critically, recognizing that language and literature are cornerstones of humanistic study and sources of both information and interpretation. Students in these programs will interrogate the histories of literary study and its structures, gain practice in communicating in multiple rhetorical registers, and develop their own voices to add to contemporary conversations about language and its power.
English Courses
The English: Literature major (39 units) provides a strong foundation in the critical study of literature, its histories, and its structures. Students pursuing a degree in Literature will engage deeply with a variety of literary theories and critical methodologies as they create and construct their own analyses of literary and cultural texts. The program encourages students to investigate and interrogate the construction of the literary canon, as well as to expand its boundaries through the inclusion of diverse texts and perspectives. Literature majors have the opportunity to shape their program through the choice of two elective courses, and the capstone ENG 490 Seminar in Literature enables students to demonstrate their development as readers, writers, and thinkers. The flexibility and versatility of the English: Literature program prepares students for many different career paths, including teaching, law, social work, writing or editing, arts and entertainment, business, politics and public service, media, journalism, and many more.
Students in the English: Literature program can also complete a Minor program in Language and Linguistics or Creative Writing, utilizing distinct coursework.
Bachelor of Arts in English, Literature Option—Major Requirements
The English: Education option (56 units) provides students with a solid foundation in the study of literature and language along with training in pedagogy and a secondary field. Students who complete the coursework for the BA in English: Education will also be able to satisfy the requirements for the Subject Matter Preparation Program in English (SMPP) through a Field Experience opportunity and a portfolio and exit interview.
The SMPP is designed for students interested in a career in teaching English at the secondary school level (grades 6-12). This program satisfies the requirements set by the California Commission on Teacher Credentialing for demonstrating substantive preparation in the subject matter field of English. Completion of this approved program or passing a comprehensive examination in English fulfills one part of the requirements leading to the Single Subject teaching Credential in English. Students interested in pursuing a teaching career at the secondary level should meet regularly with their departmental advisors.
All English: Education majors must complete the 41 upper division units of core requirements listed in the major checklist. In addition, all students will select one of four disciplines for 15 credits of Extended Studies of a single field—Communications, Literature, Teaching English as a Second Language, or Theatre Arts.
Bachelor of Arts in English, Education Option—Major Requirements
The English: Language and Linguistic option (36 units) provides insights about how human languages work. We cover topics such as the structure of the world's languages, the production and perception of sounds, the formation of words and sentences, the creation and understanding of meaning, how people use two languages, how languages change over time, and the connection between language-identity-society, just to name a few topics. Our program provides the tools to investigate human language and to reflect upon its function within society and educational systems. Linguistics degrees provide students with general organizational and analytical skills and help to train them in analyzing data. These skills provide a useful foundation for many careers and graduate school. For more information about this option, go to the Linguistic's page.
Bachelor of Arts in English, Language and Linguistics Option—Major Requirements
Minor in English (15 units)
The Minor in English is an excellent accompaniment to many academic major programs, combining critical reading and writing with rhetorical and historical analysis. The English Minor allows for flexibility through the choice of elective courses that complement the core requirements.
Requirements
A. Required Course (3 units)

ENG 307 Practice in Literary Criticism (3)

B. Select two courses from the following (6 units)

ENG 302 English Literature to 1642 (3)
ENG 303 English Literature: 1642-1832 (3)
ENG 304 English Literature: 1832-Present (3)
ENG 340 American Literature to 1865 (3)
ENG 341 American Literature: 1865-Present (3)

C. Upper Division Courses in English (6 units)

Select two upper division English courses with the assistance of an advisor (6 units).
Note: ENG 305 and ENG 350 may not count toward the minor.
Minor in Language and Linguistics (15 units)
The Minor in Language and Linguistics (15 units) complements many majors in the Arts and Humanities and in Social Science. It provides a scientific and social understanding of languages and culture, adding depth to any major. For more information contact our Linguistics advisor Dr. Iara Mantenuto (imantenuto@csudh.edu).
Requirements
A. Recommended Course

ENG 210 Study of Language (3)

B. Upper Division Required Courses (15 units)

ENG 311 Phonology (3)
ENG 312 Morphology (3)
ENG 315 English Syntax: Generative-Transformational (3)
ENG 420 Linguistic Analysis (3)
ENG 492 Seminar in Linguistics: (3)
Minor in Creative Writing (15 units)
The Minor in Creative Writing fosters the development of students' creative expressions and engagements with language. The program combines literary study of genre with students' own exploration of and experimentation in those forms of literature, culminating in the creation of a portfolio of original work.
Requirements